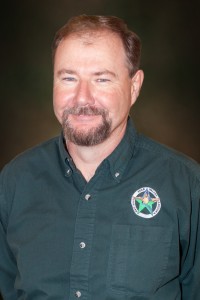 About Robert Rippy
Robert Rippy was born in Illinois, but the family moved to Phoenix, Arizona when he was 5 years old. Growing up in West Phoenix, Robert attended Trevor Brown High School. He moved to Southern California in 1989; met his wife Anna in 1991; and began his career in high-rise suspended scaffolding in 1991. Robert became factory certified in four different manufacturers high-rise suspended scaffolding during which time he gained experience with electrical mechanical machinery, including troubleshooting.
After Robert's father died in 2006, Robert and Anna moved to Star Valley, Arizona to be closer to both of their families. This required a change in careers for both Robert and Anna. After several odd jobs, including painter and mechanic at the local bowling alley, Robert obtained a job with Brooke Utilities as an entry-level water operator. Robert obtained his Level 1 certifications, and found himself on the way to a new career. In Robert's words: "I must not have been so bad as by my second year I was promoted to operations superintendent overseeing all of Brooke's water systems in the eastern half of Arizona."
When Pine-Strawberry Water District purchased its water system from Brooke Utilities, Robert went to work for it to help establish this new water company. With a few more years of experience under his belt, Robert felt confident in approaching the Town of Star Valley when he heard it was going to purchase its water system from Brooke Utilities. With the blessing of everyone involved, Robert became the operations superintendent for the water department for the Town of Star Valley in April, 2012.
With the help of mentors and continuous training through ADEQ programs, Robert continues his education and certifications to improve himself and provide better service to the Star Valley water department. Robert currently holds a grade three distribution and a grade two treatment certification.
Robert's personal hobbies are restoring classic cars, motorcycle riding, fishing and hunting.